Events
Here you will find a list of our Roundtable sessions and recommended events.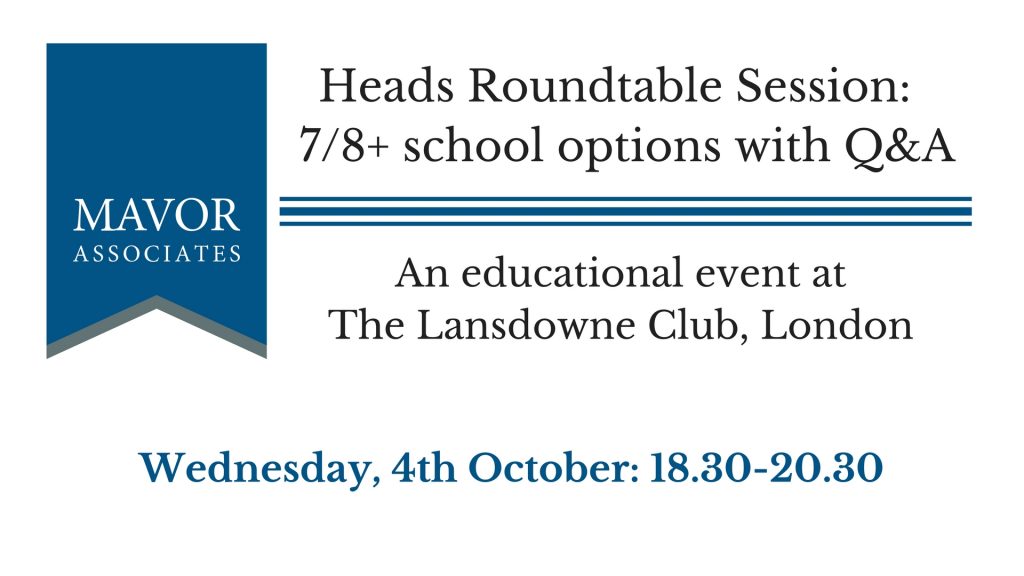 ---
Is your child taking the 7+ or 8+ assessments or are you contemplating sending your child to a school that will require 7+ or 8+ assessment? We understand how confusing the process can appear and how challenging it can be for parents and children.
Would you like the opportunity to talk to leading Prep School Heads and understand your options at 7/8+?
Join Mavor Associates for a Heads Roundtable Session: 7/8+ options with Q&A on Wednesday 4th October at the Lansdowne Club, Mayfair, where we will be welcoming the following leading Prep School Heads:
The event is designed to provide an insight into the range of school options available at 7/8+ as well as an understanding of the process.
Wednesday 4th October: 18.30-20.30
Shelburne Room at The Lansdowne Club, 9 Fitzmaurice Place, London W1J 5JD
Subscribe to our Newsletter
Please enter your details below to subscribe to our Educational Guidance and School Selection News.